For all those girls out there who moan that their hair never grows past a certain length, or grows too slowly, I've found the answer!
Michael Van Clarke (brother of Nicky)
3 More Inches
Shampoo (£17), Conditioner (£17) and Pre-Wash Treatment (£29) is absolutely amazing! I went and had a haircut with the man himself in December (which was one of the best haircuts I've ever had btw, and I've had A LOT in this job!) and he very kindly gave me the products. The PR told me how amazing they were if you used the regime properly, but I thought it was just the usual so didn't actually do much with them.
I then started using them properly at the beginning of January, and didn't really think much about it until the amount of comments people have been giving me about how long my hair is looking over the past couple of weeks. I completely didn't think to put the two together until I met up with some other girls in the beauty industry who, strangely enough, were both using the regime as well and were saying how much it worked for them. One has short hair and commented on the thickness of hers now (she used to always have extensions for volume but doesn't need to anymore), and the other was saying about how much stronger her hair was – it was only then that I realised actually my hair had gotten quite long, quite quickly, and definitely wasn't as split as it used to be, and that's only after about 6 weeks!!
I realise it's expensive but it should last a good 4 months at least and honestly is amazing. The Pre-Wash Treatment should be used at least an hour before you wash it, but I've been putting it on overnight, or through my hair when I've worn it up knowing I'll wash it that evening, and because the creamy consistency dries nicely, it doesn't leave any residue or actually make you're hair look greasy. I only wash my hair 2 – 3 times a week so have been using this before every wash, but it should be used around twice a week.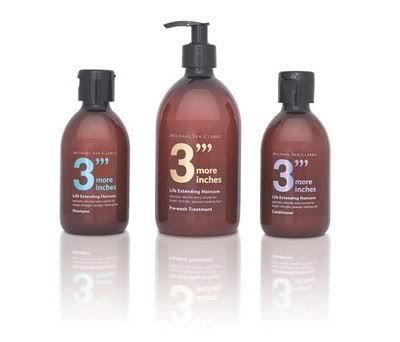 I can't explain properly how it works, I just know that it does, but for those of you who like the science bit, here's what they say:
"Hair is a complex structure of hard and soft proteins with a delicate moisture balance. Once out of the scalp it is no longer part of the living tissue and so cannot repair itself. From here it starts to suffer the wear and tear of everyday living – UV light, aggressive heat styling, poor quality products, seawater, chlorine, hair
colourants
and other chemical processes etc. These cause damage to the surface and interior. As the molecular bonds start to break, the mass begins to leach away. As more of these protein bonds are lost, the hair is less able hair is to hold moisture, and the more brittle it becomes. This accelerates the loss of further bonds and so the degenerative cycle speeds up. Hair then ages rapidly.
This unique complex of naturally derived cashmere proteins in a blend of select conditioning agents penetrates deep into the hair shaft; repairing broken bonds and helping to protect the hair from further disintegration. The natural cashmere proteins and amino acids closely match the molecular structure of human hair so fit better in the gaps and hold longer. A stitch in time saves nine. After shampooing, 3 more inches Conditioner then provides a further protective seal on the surface.
Following the 3 more inches System slows down the aging process so your hair stays healthier and grows longer before it dries out. It will be easier to manage, more vibrant looking, and hold its colour for longer, giving you more inches of youthful, silky, supple, sexy healthy hair."
Secret Beauty Verdict: I've tried so many haircare regimes to strengthen my hair and this is the only one where I've seen a noticeable difference, it is expensive but if you really want longer hair then it's definitely worth it!