It's that time of year when all of the fake tan and bronzer samples come in to the office, and there have been a few that I've been really impressed with, so here's my pick of the bronzing bunch…
One product that really surprised me was the Miners Bronzer Blend Collection (RRP £3.99); one bronzer and highlighter blend compact, and one bronzer and blusher blend - which I really think gives my make-up bag staple, Benefit Dallas, a good run for it's money (and is £20 cheaper!). The highlighter blend is a mix of bronze and gold which looks great on already sun-kissed skin and would be nice for evening holiday make-up with a slick of mascara and lipgloss, whereas the blusher blend is a fab everyday product made up of bronze and pink to add a touch of sun to the skin with a lovely rosy flush too.
L'Occitane's Mine d'Or Peony Healthy Glow Face Powder (RRP £19.50) is made up of gold, coral pink, and bronze pigments which give a natural glow to the skin and can be layered for a darker look. This looks gorgeous over a dewy base and I sweep one layer all over for a daytime look, and a bit more for the evening or when I have a tan. I'm also a sucker for pretty looking products so love the peony design.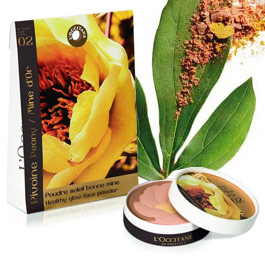 On the fake tan side, Famous Dave's Tanning Mousse Gold Edition (RRP £25.99) gave amazing results on both face and body – absolutely no streaks, even on my legs where I never ever get it right! Using the tanning mitt definitely helped, so it could be completely down to that but the colour guide in the mousse was really helpful to see where I'd applied it and it was such a natural shade when I washed it off in the morning – it did confuse a few people in the office the next day who wondered how I could have gotten so brown so quickly, but that must mean it looked too natural to have come from a bottle! It contains natural ingredients and anti-oxidants, including anti-ageing pomegranate extract, aloe vera and Vitamin E and my skin did feel lovely and soft afterwards, with pretty much no smell at all. It faded really naturally too without going patchy as so many other ones do and lasted about 5 days.
I still love my Rio Blush as written about in a previous post, but St Tropez launched their Wash Off range at the end of last year and this line-up is fab. The two products I tried were separate for the face (RRP £10) and body (RRP £12) and initially when I started putting it on I had a little panic as it comes out so dark, but when smoothed all over it's a lovely natural shade. I actually prefer using this in the day to the Rio Blush as it doesn't have a shimmer and leaves the skin really soft.
Stockists: www.famousdave.co.uk