This post will be short but sweet...I LOVE Clarins Instant Light Natural Lip Perfector.
I am an absolute lip balm addict,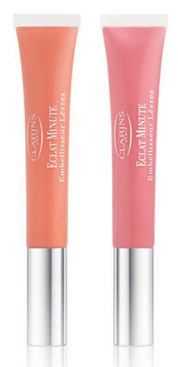 I do love gloss but find it can slide off quickly and doesn't feel as nourishing to my lips as a balm, but a few weeks of sampling this little beauty from Clarins and I'm hooked!
I am using shade 02 which is called Apricot Shimmer, although it doesn't colour the lips - just 'perfects' them and really does make them look their absolute natural best. Shade 01 is Rose Shimmer and they really are just that - not a full on gloss but a lovely creamy shimmer on the lips which really nourish the skin and smell amazing.
Priced at £13 you only need to use a small amount so the tube will last ages and I really feel it's great value for money - ask to sample it at a Clarins stand, I promise you'll love it!
Secret Beauty Verdict: Gorgeous smell, gorgeous consistency, gorgeous colour, gorgeous lips. Simply GORGEOUS!!