The days of raging hormones and teenage angst seem long gone, so why hasn't your skin moved on? From the occasional monthly blemish to full-blown breakouts, adult acne is most prevalent in women and is more common then ever before.
A recent study conducted by the International Dermal Institute found that between 40 and 55% of the adult population aged between 20 and 40 suffer from some form of low grade persistent acne, which is fast becoming accepted as a common skin disorder and needs to be treated in a very different way to the teenage version. Generally, 'adult acne' (the term used to described the problem in the over 25s) appears in clusters around the chin and jaw line – the 'hormonal area' of the face, and is also affecting those who sailed through their teenage years with perfect skin, only to be bombarded years later.
For the most part, acne is a hereditary disease that changes the skin's physiology. Pores have hairs that help to regulate the flow of oils (sebum) but acne-prone skins have very fine hairs or none at all, which means that the flow is either excessive or remains in the pores. Once there's an overflow of sebum production, it escapes onto the skin's surface, creating a mixture of oil and cells that block oxygen from entering the pores. This lack of oxygen creates a breeding ground for bacteria, which then leads to the swelling, redness, and inflammation around the follicle.
One of the major triggers of adult acne is a hormonal imbalance, in particular an increase in testosterone. This is why some women find changing the contraceptive pill, or even going on it, can help regulate these hormones and clear the skin. However, these breakouts in the hormonal areas of the face can also indicate underlying medical conditions, such as polycystic ovary syndrome (PCOS), a condition that releases a large amount of male hormones into the body.
Although it is a myth that foods such as crisps and chocolate actually cause spots, diet plays a huge role in the production of healthy skin. Foods containing vitamins A and E are especially good for keeping the skin clear, while vitamins B and C are essential for the prevention of skin conditions. Beta-carotene (which gives fruits and vegetables their orange colour) is converted by the body into Vitamin A, so eat plenty of orange fruits and veg.
Drinking water helps to flush out all the nasties as well as keeping the skin hydrated, which helps to avoid over production of oil to compensate for dryness. Exercise also flushes toxins out of the system, by increasing blood flow and producing sweat, whilst also helping to combat stress (which causes excess sebum to be produced) and promote relaxation (sleep helps the skin recover).
There are four main factors that contribute to acne:
• Overactive Sebaceous Glands.
• Cell Accumulation blocking the pores.
• Bacteria.
• Inflammation.
Although it is important to start from within, these factors need to be dealt with to help clear the breakouts. By using the right cleanser to clear excess oil, the food source for the bacteria that causes spots will be removed, as well as taking away any oily shine. Cell Accumulation can be controlled by using a gentle chemical exfoliator (rather than a physical scrub) to remove surface skin cells that may block the follicle - anything containing Salicylic Acid is great for gently removing surface cells, whilst also deep cleaning the pores. Topical treatments and facials can help to eliminate bacteria and calm inflammation, helping to keep problem skin under control.
I absolutely adore Dermalogica's adult acne 'MediBac' range of five products for home use. The line-up consists of Clearing Skin Wash, Clearing Mattifer, Concealing Spot Treatment, Overnight Clearing Gel and Sebum Clearing Masque but the three I use religiously are:
Clearing Mattifer (RRP £36)
A medicated topical treatment which claims to clear breakouts, reduce congestion and control shine and contains Organic Silicones which melt into skin to help diminish fine lines and smooth skin texture. Niacinamide, Zinc Gluconate, Yeast Extract, Caffeine and Biotin purify and inhibit overactive sebaceous activity whilst Salicylic Acid clears congested follicles to minimise future breakouts. I really find this works for me and by using it whenever I feel a breakout happening, or when I'm having a skin nightmare, it lasts for ages as you only need to use a small amount, and just on the affected area. It's also great for those who suffer from shiny noses at the end of the day! It feels lovely on the skin; use it as the next step after cleansing.
Concealing Spot Treatment (RRP £25.80)
An intense treatment with a natural-looking tint for daytime coverage with Sulphur and Zinc Oxide to target, conceal and help clear breakouts. This is also a good alternative for those who prefer treatment products free of Benzoyl Peroxide which I personally find dries my spots out too much, leaving me with flaky, dry skin where my spot once was! Although I don't use this in the day as it's not quite enough coverage for me and I find it hard to blend it, it's great to put on at night and the spot has shrunk significantly by morning.
Overnight Clearing Gel (RRP £34)
An overnight treatment gel which helps clear skin, calm inflammation and prevent future breakouts by reducing excess sebum, removing impaction plugs and eliminating bacteria. Salicylic Acid sloughs off pore-clogging skin cells to inhibit development of further breakouts whilst Niacinamide and Biotin combine with Zinc Gluconate, Yeast Extract, Caffeine and Nordihydroguaiaretic Acid to inhibit overactive sebaceous gland activity, purify to promote skin clarity and help calm irritation brought on by breakouts. Also includes Green Tea to soothe and Hyaluronic Acid to hydrate. Phew – lots of ingredients but this is a great one to put on at night and can be applied over the whole face if needed. I find I need to put a moisturiser on top once it has dried but it seems to keep spots at bay.
Daily Microfoliant (RRP £32)
Although not in the MediBac range, the Daily Microfoliant is one product I can't live without. This rice powder based exfoliator turns into a creamy lather when mixed with water, to gently slough away dead skin cells and deep clean the pores. I much prefer this to a physical scrub as it doesn't feel like I'm literally scratching the dead cells away!
Other products I love (but aren't in the Dermalogica range) are:
Clarins Gentle Foaming Cleanser with Tamarind (RRP £15) a lovely facewash which really feels like it clears my skin immediately, a little goes a long long way and really makes a fast difference to my skin.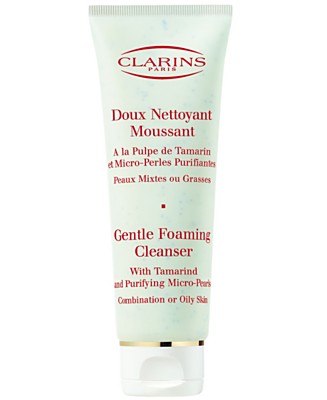 I've mentioned it before and it's an ancient product, but Elizabeth Arden 8 hour Cream (RRP £20) is amazing for my skin, more of a balm than a cream, it's a bit too greasy for day wear, but put over my overnight clearing gel at night (or even on it's own) when I feel like I may have a breakout, my skin feels much clearer and inflammation has gone by morning. Another fab Elizabeth Arden product for clearing skin is the Deep Cleansing Mask (RRP £16), again, a little goes a long way with this masque and it seems to clear my skin instantly - use this once or twice a week to deep clean, and definitely on problem areas when you have a breakout – amazing!
Cheap, natural and available from most places, Pure Tea Tree oil is great for dabbing on spots whenever and wherever. It can be quite drying so it's best to dab it directly on the spot with a cotton bud, but I use this all day when I've got a nasty one to calm and soothe.