As I've finished my holidays for the year, I can't be bothered to constantly fake tan to stop myself looking pasty, especially as it takes so long for me to build up the perfect colour, so I thought I'd write about a product I can't live without – the instant tan. I mainly use this for my legs when I go out and haven't had problems with any I've tried but these are my favourites.
The one I'm using at the moment and my personal favourite for all over my body, not just the legs is Rio Blush City Girl Firming Leg Shimmer (RRP £40), as used by Kim Cattrall on set of Sex and the City: The Movie. It claims to firm and tone the skin whilst creating a natural, dewy glow but I can't really feel that, however, the colour it leaves is lovely and natural and can be layered to go darker. There is a slight glitter in the lotion but this just makes the skin look really toned, and it washes off easily. Having said that, I did wear it on Saturday night in the rain, and had a few speckles on my legs where the rain drops had hit – not a good look but only noticeable to me!
Secret Beauty Verdict: Gorgeous but on the expensive side, very natural colour but beware of raindrops!
The first body shimmer I ever used was

Ted Baker

Divine Shimmer Body Lotion (around £5 RRP) which leaves a shimmery golden glow all over and washes off with soap and water, making it better for wearing out in the rain. Very similar to Rio Blush, but has a slightly less natural colour as it has a gold, rather than pink base.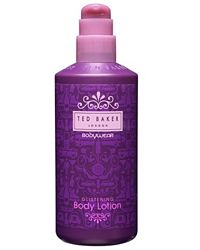 Secret Beauty Verdict: Great Value for Money, I used this for years before Rio Blush came along and had no complaints!
St Tropez

Perfect Legs (RRP £35) is a clever little product as it is one tube but split into two, with two separate pumps. One side contains a fake tan to put on the legs, while the other is an instant colour to put over while the tan develops. The first time I tried this I was shocked as the instant colour comes out really dark and I was tempted to wash it off, however, stick with it as after a couple of minutes it blends in completely and looks really natural. The fake tan is great too and after just one application the next day my legs had a very light, but very natural tan with no streaks.
Secret Beauty Verdict: Natural colour just for the legs without shimmer, which I feel is better for day wear when you need a little colour.
Although not strictly and instant tan, Sally Hansen Airbrush Legs (around £10 RRP) is my fave for when I don't want to put colour all over or when the rest of me is too pasty to look right with tanned legs! This is pretty much foundation for the legs and sprays on in an almost powdery form to cover up imperfections and taking away the 'I need sunglasses to look at your legs' problem I so often get! The legs basically look the same as they do with clear tights on, it stays put until you wash it off and comes in four different shades.
Secret Beauty Verdict: Perfect for when tanned legs look too much, but tights aren't quite right either (especially with peep toe heels!)